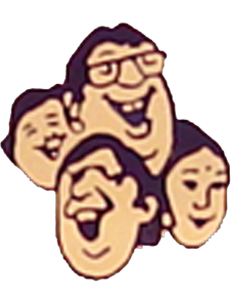 Humour Club International, Triplicane Chapter was started in the year 1983 on a Vijayadasamy day at 10.00 a.m (16-10-1983)with less than 15 members at Hindu High School, Triplicane, Chennai 600 005 . Mr.Vivekh & Mr.Charlee leading comedians were with us at their initial stages before they ventured into film industry.

The annual subscription was just Rs.12,For the first ten years we conducted the meetings at Hindu High school, Triplicane. Due to non availability of a good auditorium at Triplicane, we have shifted the venue to mylapore & now we meet between 4.00 to 6.30 p.m on every second sunday.

The first meeting was held at sanskrit college in mylapore, then it was shifted to srinivasa sastri Hall, Tag Dhakshinamoorthy Auditorium (P.S.High School)with the continuous Increase of our patrons the monthly meetings are now held at Tag Mylapore Fine Arts Club Auditorium Musiri Subramanian Salai MylapoChennai 600 004 in order to facilitate more number of people.

In our monthly meetings the first 80 minutes is open Session where any person can come to stage and crack Jokes. Our Code of Conduct:

a) No "A" Jokes.

b) No Political Jokes.

c) While cracking a Joke one must not suppose to hurt the feelings of others.

The next one & half hours is for Guest speakers, so far we have invited more than 500 speakers in & around Tamil Nadu, Srilanka of the various humour clubs present throughout the world we are the biggest among them. We have grown by leaps & bounds, now we have 1800 members.

The Annual subscription now is Rs.500 & Life membership is Rs 5000. Please Join with our club & have a cool sunday evening by enjoying unadulterated pure entertainment without any side effects. There are many interesting news about our club, to know about it please attend our monthly meetings.